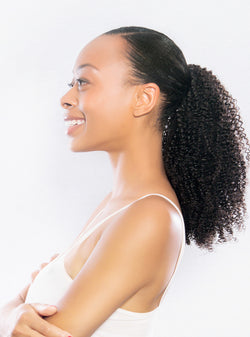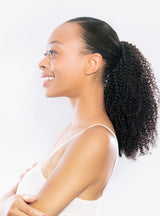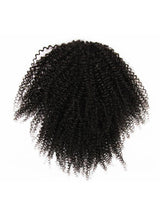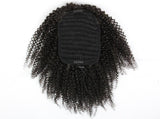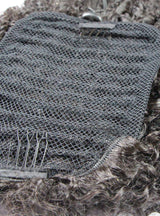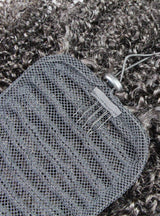 CutiePieTresses
Coily Ponytail
Say hello to our Coily range, the perfect addition for those with 3C - 4A coily tresses. Bask in the glory that comes with gorgeous curls.
Level up with our drawstring ponytail. Available in a natural black color only, each ponytail comes with two secure combs.
Hair Texture: 3C - 4A
Hair Type: 100% Virgin Remy Hair
Hair can be washed, conditioned, cut, twisted out, bantu knotted, straightened and more. Our hair can also be dyed or bleached, however this may forfeit our returns policy. 
Straight Length
12"
14"
16"
18"
20"
Approximate Curly Length
5.5"
6.5"
7"
8-9"
 11"
(1) The curl pattern of the hair product you received may appear a little more defined than those showcased by vloggers and stylists on social media. 
If you feel that the curl pattern you received is COMPLETELY different from the curl pattern of your own hair, please email sales@cutiepietresses.com ASAP, and keep the hair EXACTLY THE WAY IT CAME.
This means the hair extensions have NOT been brushed out, combed with your fingers, washed, installed, colored, or bleached. The ties have NOT been cut. We cannot do return or exchanges on hair that has been altered in any form. No exceptions.

(2) Please do remember to co-wash the hair before your first install to reduce tangling.
What is 3B/3C-4A/ 4B-4C?
Don't get scared when you see these letters and numbers - these are the different textures of virgin hair extensions and wigs. 3B curls are the loosest, and 4C are the tightest. Let's look into every type.
3B curls are well-defined, especially when you use a suitable gel or cream. These curls can vary from loose ringlets to tight corkscrews.
3C hair is voluminous and is either kinky, or tightly curled. It is very complicated to strengthen them, but if prepare for a special event, it will be worth it!
4A hair texture is curled in "S" pattern. The curles are very defined in contrast to 3C hair.
4B hair, in its turn, has a "Z" pattern and feels like a soft cotton ball. Although this hair always looks great, you should take special care of it as it is prone to damage.
4C curls are so tiny that they will never clump. This type of hair has almost no definition, and it might be challenging to style it.
How do I choose a hair texture?
When selecting your hair extensions and wigs texture, ask yourself the following questions: Do I like mild or extreme volume? Am I going to straighten my hair from time to time? Which styling products am I going to use? As soon as you reply on these questions, choose the hair texture that works for you the best!
Which hair length should I choose?
We all know that the more curls there are, the less voluminous the hair is. Therefore, be aware of that when you choose your human hair extensions or wigs. Even if you decide to have your 4C texture long, it might be still extremely voluminous.
How long do virgin hair extensions and wigs last?
There is no definite lifespan of real virgin hair. It all depends on how you treat your human hair extensions or wig: if you follow all of the care instructions we provide with every order, your extensions or wig can last up to 1 year and still look like new!
Can I bleach my human hair wig or extensions?
Sure! Nevertheless, keep in mind that when you bleach your hair, you deprive it of such crucial elements as protein and melanin that give that juicy curl pattern. If you can't help but bleach and dye your hair extensions or wig, we recommend visiting your hairdresser and letting them do the job. Tell your hair specialist to lift the color with a lower developer of 20 and avoid using dryer. As soon as your hair is bleached and nicely dyed, take special care of it. It needs deep conditioning treatment and other hair care procedures on a weekly basis.
Can I straighten the hair?
Yes, straightening human hair extensions and wigs is possible, but we do not recommend doing it too often. As well as any other natural hair, it might be damaged by heat and lose its beautiful color pattern. So use your flat iron only for special occasions!
Can I swim in the sea or ocean when wearing virgin hair extensions or wig?
Although you might be seduced to look like a beach queen with jaw-dropping hair, we would advise you not to swim in you hair extensions or wig in salty water. If you have to, wear a swimming cap to protect your beautiful curls.
How often should I wash my clip-in human hair extensions?
It fully depends on how frequently you wear your hair extensions. However, even if you wear your extensions every day from morning till evening, it is recommended to wash them not more than once a couple of weeks. Ideally, you should wash them once every 4-6 weeks. Don't forget to use a quality shampoo that fits your hair texture to prolong the lifespan of your clip-in extensions!
What is the difference between synthetic and human hair extensions?
The main difference between the two types of clip-in hair extensions is the fact that human hair looks and feels exactly as your natural hair. It is shiny, soft and can be heat styled. As far as synthetic hair extensions are concerned, they might look too shiny and "plastic", if you know what we mean. Also, synthetic hair cannot be styled. As it is in most cases made of polyester, it will simply melt and destroy your flat iron or curler. CutiePieTresses offers only 100% human hair extensions and wigs that will serve you for ages!
Can I track my order?
Yes. All of the orders made on CutiePieTresses can be easily tracked. When you place an order, you will immediately receive a confirmation email. After that we carefully pack your hair extensions or wigs and give the package to the shipping company. As soon as your order is shipped out, you will receive another email with your tracking number and further instructions. If you have not received this email, please check your spam box, or contact our Customer Support team at info@cutiepietresses.com .
Do you ship worldwide?
Sure thing! Regardless of what corner of the world you live in, your virgin hair extensions or wig will reach you in a matter of days.
What payment methods do you accept?
At the present moment, you can pay for your order on CuitePieTresses using your credit card, debit card or PayPal. Please note that all of the transactions are carried out through PayPal to ensure maximum security of your payment.
Can I return an item and get a refund?
Yes, returns and refunds are possible at CutiePieTresses. However, we can provide a refund only if you received a defective item, or it did not reach you at all. Please prepare your hair extensions or wig for a return: it should be unused, in the same condition as you received it and placed in the original package. For more information on returns and refunds at CutiePieTresses, please visit our Return and Refund Policy page.
Great Product
Such a great product: quality is good, there is like no shredding and it matches my natural hair. Would highly recommend getting this product! Also super cute!
Gorgeous
I'm really glad I found Cutiepietresses, I wanted a super cute coily ponytail and that's what I got. There is nothing to complain about with this product, delivery was super fast considering covid and the payment process was super easy. I love my ponytail so much!
Oh my......
I wish I knew about this ponytail earlier, you can hardly tell that it isn't my natural hair. I've gotten so many compliments about how good it looks and how soft it is. I highly recommend this ponytail if your wanting something that is easy to attach and doesn't require a lot of styling!
Beautiful ponytail
I would definitely recommend this hair to anyone looking for a quick and easy to deal with ponytail. Super easy to wash and I even cut it to the length I wanted it at. You can also finger comb it as much as you want to. Super happy with this product :))
Sexy and lightweight! It is just what I needed for the summer while I keep my natural hair in a ponytail. I want more of these! This ponytail is AWESOME! I absolutely love it. I have washed it a few times and as long as I condition the hair it looks like it will last a long time!